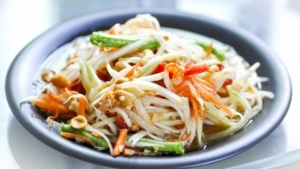 Since Thailand has a wide range of its cuisine, it's no wonder that they also have Thai Salads that you can enjoy. These salads can give you delight even if you're on a diet and you don't like to eat a heavy meal.
If you love Thai food, then you should definitely try Thai Salads and I'm sure you won't regret it especially if you witness how Thais prepare the different Thai Salads. Thais have their own unique way to prepare every dish. Just smelling the aroma of the dishes makes your palate dance with joy and want to eat everything that is served on your table. 
So before you go and try some Thai Salads in a Thai restaurant near you, let's talk about a few of the favorite Thai Salads that captured the attention of many tourists.
Thai Salad: Yum Naem Kao Tod (Rice and Sausage Salad)  
Rice and Sausage Salad are one of the best Thai Salad that is recommended for first-timers in Thai cuisine. 
Phla Kung (Thai Prawn Salad)
Phla Kung is among the traditional Thai Salads in Thailand and consists of lemongrass, shrimp, kaffir lime leaves, cilantro, mint, and shallots. To make the salad tastier, it is garnished with mint sprigs. Though this is a shrimp salad, there can be a lot of variations of it. Instead of using shrimp, other ingredients are used such as fish or other seafood. 
Som Tum Thai  (Green Papaya Salad) 
Thailand is a tropical country which means that it has plenty of fruits that are used as ingredients in many Thai dishes including Thai Salads. Som Tum Thai is among the spicy Thai Salads that the locals love eating. You can also find this dish in Cambodia, Vietnam, and Laos. 
Yam Kun Chiang (Spicy Chinese Sausage Salad)
Yam Kun Chiang or Dried Chinese Sausage is used widely by Thais when preparing dishes. The ingredients for this salad are cucumber, shallots, chili, lime juice, cilantro, fish sauce, and sausage. This easy to make salad has a combination of sour, salty, sweet, and spicy flavor that will make your taste buds cry with joy.
Tam Khanun (Spicy Jackfruit Salad)
Tam Khanun is a classic very nutritious salad in Northern Thailand that comprises young unripe jackfruit, pork belly, kaffir lime leaves, shallots, tomato, garlic, and chili. Even though the fruit is a bit bitter, the taste will become delicious (sweet, sour, salty, and spicy) after mixing it with other materials to make a salad.
Jackfruit is highly nutritious and there are a lot of health benefits that you can get from it. 
Yum Tua Pu (Wing Bean Salad)
Among the classic  Thai Salads is Yum Tua Pu or Wing Bean Salad. Like its name, wing bean is the main material needed in preparing this dish. However, if wing beans are not available, long beans or green beans can be a replacement. This delicious and flavorful Thai salad uses pork, shrimp, and chicken alongside beans and other ingredients. 
Thai Salads:
Cucumber Salad
Cucumber is the simplest and easiest Thai Salad you can order or just make at home. If you have plenty of cucumbers, yòu can try making this one of the simplest Thai Salads. You only need to add shallots, peanuts, green onions, cucumber, soy, fish sauce, and sugar.
Thai Salads: Som Tom Polomai (Spicy Mixed Fruit Salad): Thai Salads
Because The Kingdom of Thailand has plenty of fruits, they created a mixed fruit salad which they call Som Tom Polomai. This spicy salad composes various kinds of fruits so if you want to try making your own version, there's no problem because you can select the fruits you can use. 
Yum Woon Sen  (Glass Noodles Salad)
Yum Woon Sen is among the well-known Thai Salads in and out of the country. The locals believe that this is a very good dish for someone who is on a diet, but if you love noodles and you start eating one serving, you'll definitely don't want to stop having another plate. If you want to try making this dish at home, you'll need glass or clear noodles, cilantro, garlic, fish sauce, dried shrimp, onions, peanuts (makes the salad crunchy and nutty), sugar chili pepper, and celery. 
Larb or Laab 
When eating Laab (a Northeastern food), you need lettuce because you will be wrapping the ingredients into it before eating. If you want another variation of this dish, you can have duck laab or chicken laab. 
If you notice upon reading this blog, most Thai Salads are spicy. So if you love fiery dishes, then you're in for a treat. But if not, don't worry because you can always request a less spicy salad. 
Thank you for reading
Thai Salads: 10 Well-Known Salads From Thailand
. Enjoy!
Best Thai Restaurant Coppell
140 W Lyndon B Johnson Fwy