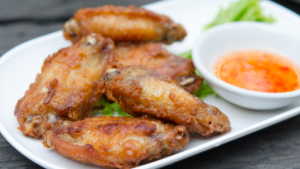 Looking for a new way to spice up your chicken food adventure? Thai halal chicken dishes might be just what you're looking for! This style of cooking is flavorful and easy to make, and the best part is that there are endless possibilities when it comes to ingredients. 
In this blog post, we will introduce five delectable Thai halal chicken menus that are also halal-friendly. Halal refers to a set of Islamic guidelines for food preparation and it is not only healthy but flavorful and nutritious. To ensure that your meals are prepared according to these standards, we have also included some reminders and tips below.
Halal Tom Kha Gai – Creamy Chicken Soup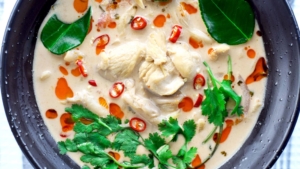 For those who savor halal chicken, the Tom Kha Gai will make you feel like you're in paradise. This soup-like dish uses creamy coconut milk combined with spicy chilies, pungent lemongrass, crushed shallots, baby galangal, and a heaping helping of chicken strips to formulate a medley of mild ecstasy. Halal, healthy, and utterly delicious, this is one meal that will have you licking your bowl clean!
What You Need:
This dish calls for 1 lb. Halal chicken breast, cut into strips,

3 cups of fresh or canned coconut milk, 

½ cup of fresh or canned coconut cream, 

½ cup of young galangal (sliced into 1 cm slices),

2 lemongrass stalks (bottom third only;

cut into 4 cm sections and lightly smashed),

4 big kaffir lime leaves (crushed between the hands),

3 tablespoons fish sauce, juice from 1 lime (or to taste)

5 red birds eye chilies (lightly crushed with a knife) and

1 heaping teaspoon of roasted chili paste

5 chopped coriander sprigs
Halal Gai Yang – Grilled Chicken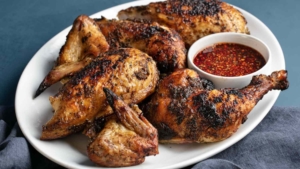 The Gai Yang, or grilled chicken, is a Halal chicken dish that is popular in Thai cuisine. It uses marinated chicken that is then grilled to perfection and served with a sweet and savory dipping sauce on the side. The key to making this dish Halal is in the marinade, which must be free of any alcohol.
A halal chicken – Gai Yang would usually uses a mixture of garlic, cilantro, coriander root, cumin powder, pepper, turmeric, fish sauce, and oyster sauce.
What You Need:
3 cloves garlic (finely chopped),

1 teaspoon coriander root (finely chopped),

½ teaspoon cumin powder,

¼ teaspoon black pepper,

⅛ teaspoon turmeric powder,

2 tablespoons light soy sauce,

1 tablespoon fish sauce and 1 tablespoon oyster sauce.
Halal Kai Med Ma Muang – Sauteed Chicken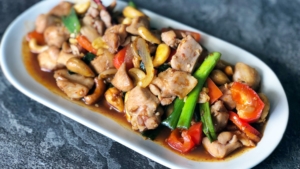 Kai Med Ma Muang is a dish that will tantalize your taste buds like never before! Sautéed chicken with garlic, cashew nuts, sweet soy sauce, mushrooms, onions, carrots, and more are brought together to create a flavourful experience. With notes of sweetness, spice, and saltiness all in one bite, Kai Med Ma Muang is a must-try Halal chicken dish!
What You Need:
1 lb. chicken breast (cut into bite-sized pieces),

½ cup cashew nuts,

1 tablespoon cooking oil,

4 cloves garlic (minced),

2 tablespoons sweet soy sauce,

½ cup water,

½ onion (sliced),

3 mushrooms (sliced),

1 carrot (sliced),

2 tablespoons oyster sauce,

½ teaspoon white pepper and

3 green onions (sliced).
Halal Khao Mok Gai – Thai Biryani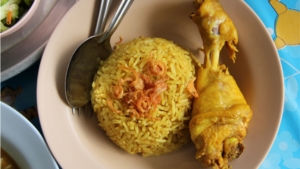 Biryani is a tasty dish that you can find in many different countries across Asia. Each country has its own version of the dish, and Thailand is no exception. Khao Mok Gai is one of the most popular Halal dishes in Thailand, made with halal-cut chicken or mutton. This dish is full of local spices and ingredients, mixed with flavored yellow rice and slow-cooked in a pot. You can find this delicious meal at street food stalls all over Bangkok or on restaurant menus throughout Thailand.
What You Need:
1 lb. Halal-cut chicken/mutton,

2 tsp curry powder

1 tsp turmeric powder (or ~1 tbsp chopped fresh)

1 tsp ground coriander (or 1.5 tsp whole seeds)

0.5 tsp ground cumin (.75tsp whole seeds)

1 tsp cinnamon

1 tsp white sugar 4 cloves, chopped garlic

White cardamom

Bay leaf

Salt

Plain yogurt
To Make the Rice:
Shallots, whole about 1 cup

Vegetable oil 1/2 – 2/3 cup

Jasmine rice 2 1/2 cups

(Optional) Fresh garlic 18g

(Optional) Fresh ginger 18g

(Optional) Fresh Turmeric 18g

Salt 1/2 teaspoon

Coconut milk 1 cup

Water 2 cups

Star Anise 2 full flowers

A lot of cucumbers and some cilantro
Halal Massaman Curry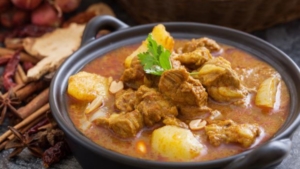 Another great option is for halal chicken Massaman Curry. It gets its name from the Muslim community that created it and consists of chicken or beef in coconut milk, roasted peanuts, potatoes, sugar, cinnamon, bay leaves, and tamarind for a sweet-sour taste. 
What You Need:
500 grams of chicken thighs

3 tablespoons of Masaman curry paste

1 cup of coconut cream

2 cups of coconut milk

5 potatoes (boiled and carved) 

5 small onions (carved)

2 tablespoons roasted peanuts

                        

5 cardamom pods (roasted)                      

1 cinnamon stick                              

3 bay leaves                          

3 tablespoons palm sugar                   

2 tablespoons fish sauce                 

3 tablespoons tamarind concentrate                       

3 tablespoons lemon or lime juice
Some Reminders on Keeping things Halal:
Since you are now armed with all these halal chicken recipes, we want to give you some reminders about keeping things halal.
When buying halal chicken or meat, be sure to check that it is halal-certified. If you are unsure, ask the vendor or slaughterhouse for clarification.

When cooking at home, be sure to use separate utensils and chopping boards for halal and non-halal ingredients.

Only consume foods that are permissible according to Islamic law.

Make sure all food is prepared and cooked in a clean environment.

Avoid consuming alcohol or anything else that is haram.

And finally, when eating out at a restaurant, be sure to check that the establishment is halal-certified. Be sure to specify that you would like halal meat to be used in your dish. Many Thai dishes can be made halal upon request. You can also ask to see a halal certificate if one is not prominently displayed. 
Enjoy Thailand's Halal Food Scene!
There you have it, five Thai halal chicken recipes to enjoy at home. Try out these delicious recipes at home! From Khao Mok Gai to Massaman Curry, there's something for everyone to enjoy. You can also explore Thailand's halal food scene for yourself by coming to our restaurant or placing an order online. We can help you enjoy a delicious halal-friendly meal, no matter where you are. 
Read More:
Thai Salads 10 Well-Known Salads From Thailand
Announcing the Best Authentic Thai Food Grand opening Yummy Thai Coppell
9 Famous Thai Drinks to Quench Your Thirst