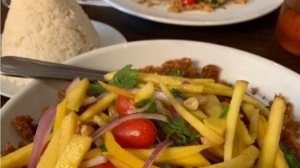 Thailand is full of mouth-watering food that attracts not only the locals but most especially the tourists. It is one reason why foreigners like to visit the country and enjoy its rich culture.
Discover the delicious Thai Lunch menus when you plan on spending your holiday in the Land of Smiles. You can go restaurant-hopping or food tripping on the streets, and I guarantee you that you will have a superb experience! 
Let's take a look at these tasty Thai Lunch dishes which are worth trying. 
Laab (Spicy Salad):
Thai Lunch
Another Thai Lunch dish (which is a Lao Cuisine) that you can try is Laab or Spicy Salad. Beef, duck, fish, pork, chicken, or mushrooms (you can choose which meat you want to use) are the ingredients of this salad, including fresh herbs, roasted ground rice, lime juice, and seasoned with fish sauce. A variety of vegetables, chili, and mint are also added, and the minced meat can be either cooked or raw. Laab is commonly paired with fresh veggies or sticky rice. The spiciness of this dish kicks in your mouth, so if you can't handle the fiery taste, you can request the server to lessen the chili or make a change and challenge yourself to go beyond your limit.
Pad Krapow/Phat Kaphrao
Pad Krapow is among the well-known Thai Lunch a la carte dishes. According to history, Phat Kaphrao and Pad Thai are the dishes promoted in local competitions and the first dish requested by some of the Tham Luang Cave Rescue survivors after being trapped in the cave for 14 days. 
This food's main ingredients are Thai Basil, fish sauce, sugar, meat (pork or chicken), or fish. Tofu is also an excellent alternative for vegetarians. 
Tom Yum Goong (Spicy Shrimp Soup)
This Thai Lunch dish is perfect for your meal, especially if you are a seafood soup fan. The spicy and sour taste combination of the food makes your palate feast, and you can't stop after a bite and want to have more. Tom Yum Goong comprises the classic fish sauce, fresh lime juice, kaffir lime leaves, lemongrass, galangal, chili, shallots, and coconut cream (to make the dish creamy). Each restaurant has its own version of the Spicy Shrimp Soup to spice up the flavor, making foreigners go crazy on this Thai Lunch.
Khao Soi/Soy (Creamy Coconut Curry Noodle Soup)
Noodle lovers would be delighted with this delicious Thai Lunch menu that originates in Southeast Asia and serves in Myanmar, Laos, and Northern Thailand. Its name means "cut rice" (an inspired Burmese noodle), the main ingredient, with pickled green mustard, ground fried chili, shallots, lime, crunchy egg noodles deep-fried, and coconut curry soup base. 
Thai Lunch:
Gai Tod (Deep-fried Chicken)
Is your mouth watery just thinking of fried chicken? Well, you're in for a treat for your Thai Lunch with this deliciously crispy deep-fried chicken! What makes the chicken more mouth-watering is the marination for a few hours using various spices and coated with rice flour before it is deep-fried. Can you imagine the crunchiness of each bite? So, include this dish in your  "must eat" list when you happen to visit the country.
Pad Phak (Stir-fried Vegetables)
Hello vegetarians! This Thai Lunch menu is for you! The dish comprises various kinds of veggies with tofu or shrimp/pork/beef for meat lovers. You can enjoy eating Pad Phak with Jasmine Rice-the best rice the locals prefer to pair with most of the dishes they eat. 
Yam Pla Dook Foo (Fried Catfish with Green Mango Salad)
If you want a salad for your meal, try this fried catfish with green mango salad. The five different flavors are fighting in your mouth in this Thai Lunch; sweet, sour, spicy, salty, and nutty.
Yam Pla Dook Foo is not only a typical Thai Lunch but also savored as an appetizer paired with beer while having a chat with friends. The combinations of crispy fish with sweet and sour green mango makes each serving incredibly delicious.
Make sure to try all these flavorful Thai Lunch dishes when you go to the Kingdom of Thailand, including other foods you have in your "must eat" list, and I'm sure you will have a blast every meal, which will make you want to go back for more! 
Thanks a lot for rendering the time to read
7 Amazing Thai Lunch Specials,
and we hope that you will enjoy every meal for your
Thai Lunch
in the Land of Smiles. 
More like this: 
Thai Appetizer Meals That You Will Love
Thai Cuisine History is Interesting
Best Thai Salads Ever That You Should Not Miss!
Amazing Foods at Yummy Thai
Thai Food for Beginners
7 Popular Thai Food for Beginners
Top Ten Spicy Thai Foods You'll Surely Love
Authentic Thai Soup That You Will Crave At Yummy Thai Coppell
Spicy Sour Thai Soup: Tom Yam Types
Amazing Central Thai Dishes We All Love
Absolutely Yummy Pork Thai Dishes
Our Story The Dream Behind Yummy Thai
Thai Dumplings That Will Melt Your Heart