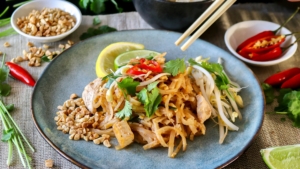 Looking for the best Thai food in town? Look no further! This Thai Food Coppell guide is your one-stop shop for all things Thai cuisine. From Pad Thai to curries, we've got you covered. We'll take you through some of our favorite Thai dishes in Coppell and give you a taste of what they have to offer!
Thai Food Coppell #1: Bún Cha Gio Thit Nuong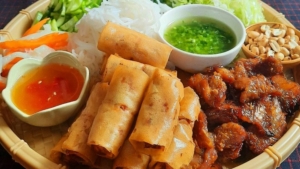 Enjoy a traditional Thai dish bursting with flavors in Coppell! 
Made with rice vermicelli and added egg rolls, grilled pork, lettuce, cucumber, carrots, and bean sprouts, this dish is then topped off with a sprinkle of fried garlic and green onion. You can savor this delightful amalgamation of ingredients that are served accompanied by fish sauce and hot sauce for extra zest!
#2: Chicken Satay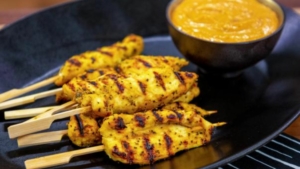 Craving some savory chicken dish? The Chicken Satay at our local Thai Food Coppell restaurants is the perfect dish for you! This classic Thai delicacy of marinated chicken pieces grilled with curry sauce–served alongside peanut sauce and a refreshing cucumber salad–has all your simple yet delicious cravings taken care of. Don't miss out on this amazing treat!
#3: Creamy Tom Yum Soup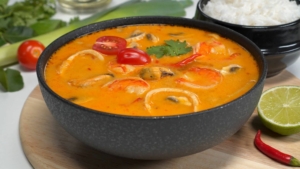 A Thai cuisine classic that you must try is the signature Tom Yum Soup! This dish is not just exquisite, but it carries a legacy of Thai flavors and spices. With a creamy broth filled with mushrooms, lemongrass, Thai chili paste, and more, this soup will tantalize your taste buds. 
#4: Nam Tok Nue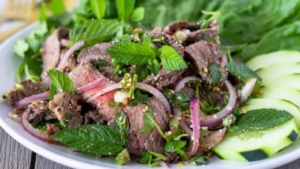 Nam Tok Nuea is Thai food Coppell's best-kept secret. The grilled beef dish is cooked in Thai spices and served alongside lime juice, mint leaves, Thai chili, and shallots–giving it the perfect balance of tangy and savory. This traditional Thai dish is a must-try for all Thai food lovers!
#5: Sum Tum Thai Papaya Salad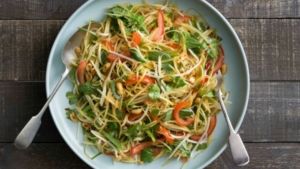 If you love Thai papaya salad, then Sum Tum Thai Papaya Salad should be top on your list of Thai food Coppell dishes to try! This classic dish of shredded green papaya comes filled with Thai chili sauce, garlic, tomatoes, beans, and dried shrimp. The combination of all these flavors creates a unique taste that is sure to awaken your taste buds. 
#6: Curry Fried Rice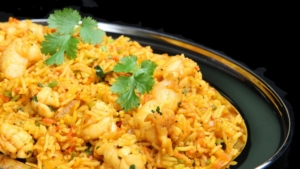 Another Thai food Coppell classic is Curry Fried Rice! This fragrant, flavorful dish of Thai jasmine rice fried in Thai curry paste, topped with seafood and vegetables is a true Thai food treat for sure. 
#7: Kao Moo Dang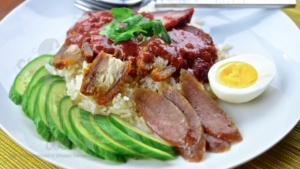 Treat yourself to the sensational tastes of Kao Moo Dang, an iconic Thai red pork dish. This enticing meal consists of BBQ pork alongside Hainanese rice and a Thai-style BBQ sauce with fried garlic, cilantro, boiled egg, and sweet soy sauce– all working together to give this delectable dish its harmonious blend of sweet and savory flavors!
#8: Massaman Curry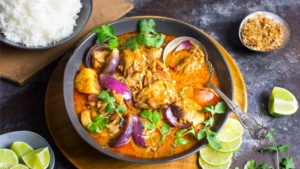 Satisfy your cravings with the traditional Massaman Curry in Coppell! This mouthwatering plate of potatoes, chicken, and Thai spices cooked in coconut milk will tantalize your taste buds. Topped off with crunchy peanuts and served over fluffy jasmine rice, you won't be able to resist this flavorful explosion of Thai flavors. Prepare yourself for an unforgettable experience!
#9: Pad-Ped Catfish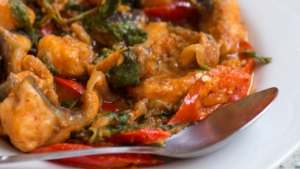 An ultimate Thai cuisine experience would never be complete without the unforgettable Pad-Ped Catfish from Thai Food Coppell! This delectable dish is renowned for its savory, spicy, and aromatic flavor. It features a deep-fried catfish filet stir-fried with coconut milk, Thai curry paste, basil leaves eggplant jalapeño, pickled rhizome, kaffir leaves, fresh peppercorns, green bean, and bell pepper – an unbeatable combination of flavors that will leave your taste buds tingling!
#10: Pad Thai Noodle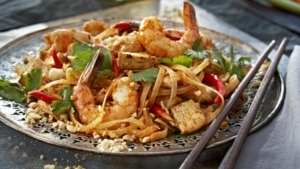 Thai Food Coppell's Pad Thai Noodle is a beloved favorite – and for good reason! This classic dish offers the perfect combination of flavors, textures, and aromas. Stir-fried pad thai rice noodles with bean sprouts, egg, green onion, ground peanut garlic, fish sauce, and sliced lime make it an irresistible comfort food that you can't help but love.
#11: Drunken Noodle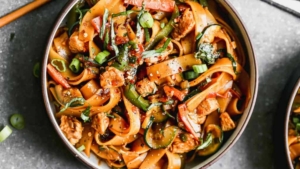 Drunken Noodle is an absolute must for any Thai food trip list! This classic dish features stir-fried flat rice noodles and a delightful blend of vegetables – from carrot, tomato, bean sprouts, and white onion to broccoli, jalapeños, and bell pepper. All ingredients are tossed together with zesty spices that create a tantalizing explosion of flavors–one you won't forget anytime soon!
Thai Food Coppell Has It All!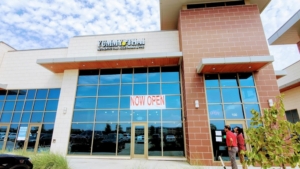 Get a unique taste of adventure with the amazing Thai food Coppell has to offer–you won't regret it! From Thai classic dishes like Curry Fried Rice and Pad Thai Noodles to more daring plates such as Massaman Curry–Yummy Thai's Coppell branch has it all. Come and explore the endless possibilities the exceptional Thai cuisine has in store for you! 
Come visit us at our restaurant or place an order online now! 
Read More:
Explore Food Culture in Thailand With These 7 Awesome Dishes!
5 Delicious Thai Halal Chicken Favorites You'll Enjoy!
Thai Salads 10 Well-Known Salads From Thailand
Announcing the Best Authentic Thai Food Grand opening Yummy Thai Coppell
9 Famous Thai Drinks to Quench Your Thirst