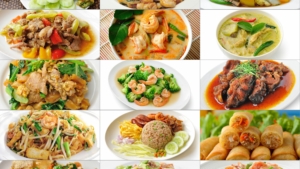 Are you looking for some juicy, crispy-licious treat? Thai fried food is sure never to disappoint! Whether you're a fan of spicy or sweet, crunchy or soft, Thai fried food has something for everyone! From crispy spring rolls and fried stuffed crabs to mouth-watering shrimp cakes and savory fried tofu–the cuisine offers a variety of options to tantalize your taste buds.
So, get ready to indulge in a culinary adventure and explore the world of crunchy, flavorful Thai fried food with us! In this blog, we'll guide you through the best fried Thai dishes and how to enjoy them, whether with friends and fam or on your own!
Thai Fried Food #1: Shrimp in Blanket
Shrimp in Blanket is among Yummy Thai Coppell's best-selling fried dishes. This crowd-favorite is made with shrimp wrapped in spring rolls sheet, served with a sweet and sour dipping sauce. The contrast between the crunchy exterior and the juicy shrimp inside is a treat for the senses.
At Yummy Thai Coppell, the Shrimp in Blanket is made using only the freshest ingredients, ensuring that every bite is bursting with flavor. This Thai fried food is worth a try for seafood lovers and pairs well with various main courses on the menu. 
Thai Fried Food #2: Thod Man Khao Pot
Another flavorful Thai fried food on our list is thod man khao pot. This delicious appetizer is made by combining sweet corn kernels with a batter made of rice flour, egg, and a variety of Thai spices, including coriander, chili, and garlic. The mixture is then formed into small patties and deep-fried until golden brown and crispy.
The result? Well, just a delightful combination of crispy and juicy textures with a sweet and savory flavor that will tantalize your taste buds. Thod man khao pot is best served with a sweet chili dipping sauce, making it the perfect starter or snack to share with friends and family.
Thai Fried Food #3: Fried Tofu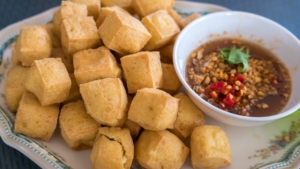 If you're looking for healthier options, you'll never go wrong with fried tofu. Fried tofu is made by slicing tofu into small cubes and then coating them in a light batter made of rice flour, cornstarch, and spices before being deep-fried until golden brown and crispy. Both vegetarians and meat lovers enjoy this dish.
At Yummy Thai Coppell, the Tofu Tod is served with a sweet and tangy dipping sauce made with crushed peanuts that perfectly complements the crispy and delicate tofu. Tofu is an excellent source of protein, and by using a light batter, this dish is a healthier alternative to other fried dishes!
Thai Fried Food #4: Crispy Veggie Spring Rolls
Another healthy option on our list is the crispy veggie spring rolls. It is a filling treat made with carrot, yellow onions, homemade glass noodles, and celery, all combined in a delicate rice paper wrapper and fried to perfection. The crispy veggie spring rolls are a great way to incorporate more vegetables into your diet while still enjoying Thai fried food's indulgent taste and texture.
You can enjoy these rolls with your hot Thai soup or as a snack on your own. They are best paired with sweet and sour sauce, which brings out the flavors of the vegetables and adds a tangy sweetness to the dish. The contrast of textures and flavors makes for a satisfying and delicious experience.
Thai Fried Food #5: Poo Cha
Another delicious Thai fried food is poo cha, known for its unique serving style and smoky flavor. This dish is made with steamed crab shells filled with crabmeat, pork, garlic, and Thai herbs, then coated in a light batter and deep-fried till golden brown. The result is a crispy and flavorful snack for sharing with friends and family.
As mentioned, one of the unique things about poo cha is its presentation. The fried crab shells are usually served on a bed of lettuce with sweet and sour dipping sauce. It adds a pop of color to the dish and provides a refreshing contrast to the rich and savory flavors of the filling.
Thai Fried Food #6: Crab Rangoon
Another Thai fried food made with crabs is crab rangoon. This cheesy and savory appetizer is a favorite among Thai food enthusiasts. Crab rangoon is made by mixing crab meat, cream cheese, garlic, and green onions, then stuffing the mixture into wonton wrappers and deep-frying until golden brown. At Yummy Thai Coppell, these are served with sweet and sour sauce, making it a delicious and addictive snack that's hard to resist.
Thai Fried Food #7: Tod Mun Pla
And last but not least on our list is tod mun pla, also known as Thai fish cakes. These popular street foods in Thailand are made from minced fish (usually either mackerel or tilapia), red curry paste, and green beans, which are then shaped into patties and deep-fried until crispy on the outside and tender on the inside.
One of the great things about tod mun pla is its versatility–it can be served as an appetizer with a side of sweet chili sauce or cucumber relish or as a main dish with steamed rice, depending on how it's prepared and presented. It's also an excellent option for those looking for a healthier alternative to traditional fried foods, as it's relatively low in fat and calories.
That's a Wrap!
We hope this quick guide has helped you discover some of the best Thai fried foods. Whether you're looking for something indulgent or healthy, there's something for everyone on the menu at Yummy Thai Coppell. With fresh ingredients, superb chefs, and a cozy and welcoming atmosphere, it's no wonder why this restaurant has become a favorite among locals and visitors alike.
So why not come and try it out for yourself? Head to Yummy Thai Coppell today and indulge in some of the best Thai food you'll ever taste. You won't be disappointed!
Read More:
3 Awesome Valentine's Dinner Ideas: A Romantic Thai Dinner for Two!
Thai Food Coppell 101: Your Amazing Guide to the Best Thai Food in Town!
Explore Food Culture in Thailand With These 7 Awesome Dishes!
5 Delicious Thai Halal Chicken Favorites You'll Enjoy!
Thai Salads 10 Well-Known Salads From Thailand
Announcing the Best Authentic Thai Food Grand opening Yummy Thai Coppell