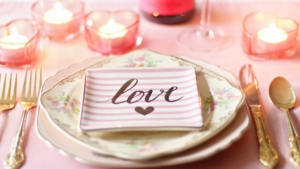 Valentine's Day is coming. This means it's time to plan a romantic dinner for two! So, do you already have Valentine's dinner ideas in mind? Whether you're looking for something special or want ideas for the special day ahead, this guide will help make your Valentine's dinner experience unforgettable.
Valentine's Dinner Ideas the Thai Way
A Thai-themed Valentine's dinner is a great way to celebrate the special day. Apart from the heavenly meals, the cuisine as a whole has a lot of history behind it. Thai cuisine has been influenced by many cultures over the years, so you can expect your Valentine's dinner ideas to be full of surprises!
The best part about these types of Valentine's dinner ideas is that there are no rules when it comes to what you eat or how much you eat, you can choose whatever dishes sound good or what you know your partners will surely love! If you're looking for ideas on what kinds of dishes you can try out at an authentic Thai restaurant or cook at your own home, this guide has everything you need!
Valentine's Dinner Ideas #1 – Authentic Thai Restaurant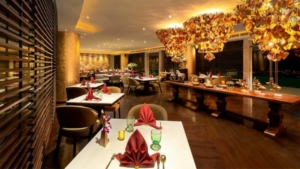 If you're looking for Valentine's dinner idea that's more than just a casual night out, consider booking an authentic Thai restaurant. There are many reasons why you should eat at an authentic Thai restaurant. Firstly, Thai dishes boast a broad range of flavors and healthy ingredients, so you and your partner will definitely have fun trying out these delicacies. Second, it's likely to be more affordable than others because they don't focus on achieving that fancy look and feel like most fine dining restaurants do. And last but not least: it will make your date feel like royalty!
Additional Valentine's dinner ideas: Ask some personals in the restaurant to make it more special to both of you. Have some music, decorate your table or even order authentic Thai beverages as well.
A Quick Guide on What to Order…
You can start off with something light like the classic Som Tam salad – which is made from green papaya, chilies, lime juice, and palm sugar for just the right amount of sweetness.
For entrees, you can't go wrong with some Pad Ka Pao Goong or stir-fried shrimp served over fresh jasmine rice. It's truly delectable! If you're feeling extra indulgent, Tom Kha Gai soup is always a fantastic choice — it features slices of chicken cooked in coconut milk and plenty of exotic flavors including galangal root, lemongrass, and kaffir leaves. 
And last but certainly not least as dessert – experience tropical bliss with mango sticky rice topped up with hotly coconut cream. Yum! Your loved one will surely be more than delighted when they taste this amazing menu selection.
Valentine's Dinner Ideas #2 – Picnic Date with Grilled Thai Dishes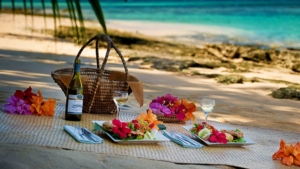 Wondering why picnic dates are still a good Valentine's dinner idea? Well, it's simple and sweet. Picnics are low-key, relaxed, and casual. It's the perfect way to spend some time with your partner without feeling pressured by time or anything else. You can choose any place that is close to your home (or even work), pack a meal together and just enjoy each other's company while enjoying the beautiful weather outside under the setting sun.
This Valentine's Day, take your partner on a picnic date in a Thai way. It's not only romantic but also delicious. Grilled Thai dishes like Gai Yang are a great way to enjoy the outdoors and still eat delicious food. Thai grills are similar to shish kebab, except that they use meat wrapped in vegetables instead of chunks of meat. These ingredients can be skewered together with toothpicks or metal skewers and then cooked over an open flame. 
Valentine's Dinner Ideas #3 – Romantic Thai Dinner at Home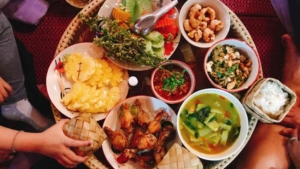 Don't really feel like going out this Valentine's? Well, there are plenty of Valentine's dinner ideas you can still enjoy without having to leave home. 
Who wouldn't want their own personal chef? Well if we're being honest with ourselves here, we'd love having someone else prepare our favorite dishes for us every once in a while–it can make anyone feel special and assured that nothing goes wrong with the preparation of the food!
One of the dishes perfect for Valentine's dinner is Thai green curry chicken. It's one of the most popular Thai dishes out there and for good reason! The combination of creamy coconut milk, fragrant spices, and juicy chicken makes this dish absolutely delicious. It's also easy to make–so if you're looking for a quick dinner idea then this one is perfect!
You Can Also Try:
Massaman curry with beef or chicken and cashews
Tom yum soup with prawns and lemongrass
It's also possible to create your own unique recipe and add up additional effort for them by combining different types of curries into one dish. For example, if you want something spicy but not too hot for your partner's palate, try mixing red curry paste with coconut milk for a milder version of traditional Thai cuisine without sacrificing its warming flavors! 
Make your Valentine's Dinner Extra Special with Thai Dishes!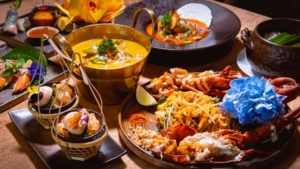 A Thai Valentine's dinner is the perfect way to celebrate with your loved one. It can be a romantic night out, or an opportunity for two friends to get together for a fun meal and some drinks. Either way, we hope this article has given you some ideas on what to do this February 14th!
And if you want your Valentine's dinner ideas to become a reality come visit us at our restaurant or place an order online for an authentic Thai food experience and satisfying dishes. We'll make sure your Valentine's experience will be extra special!
Read More:
Thai Food Coppell 101: Your Amazing Guide to the Best Thai Food in Town!
Explore Food Culture in Thailand With These 7 Awesome Dishes!
5 Delicious Thai Halal Chicken Favorites You'll Enjoy!
Thai Salads 10 Well-Known Salads From Thailand
Announcing the Best Authentic Thai Food Grand opening Yummy Thai Coppell
9 Famous Thai Drinks to Quench Your Thirst